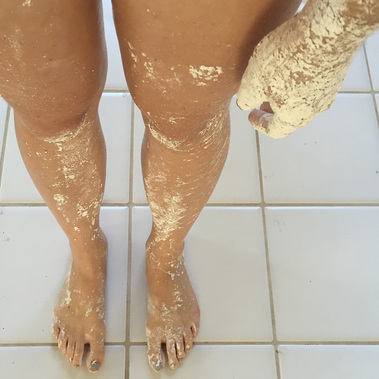 Biography
Born in San Francisco, CA to Italian, Colombian and Ukranian Jewish Parents, Madalyn Berg is a social practice artist and sculptor in Santa Rosa, CA.
In the last decade the focus of her creative practice has been caring for herself and her community through the development of the Community Medicine Cabinet.
This January 2022 marks the completion of her home/ studio which burned in the Tubbs fire in 2017. With the completion of this space comes new energy and renewed facilities to return to a consistent studio practice.
Supporting this transition back to studio practice, Madalyn is Studying with Janine Antoni and Nato Thompson through the Alternative Art School this spring.
Artist Statement
This practice exists at the crossroads of ecology, the body, and self determination. Madalyn's work is oriented around practices, from observation, to material collection, medicine precessing, and story listening. It is a practice of reciprocity, sharing and reciprocating the beauty holding and care the world offers. The practice is slow. Objects form concluding paragraphs to the ritualized creation processes— edible, ephemeral, assimilated, or observed. In a moment where connection happens outside reality, the work hopes to emulate canned peaches, storing vital nutrition, messages of reconnection, belonging and resilience for rainy days to come.